What are elearning authoring tools?
An e-Learning Authoring Tool is a software program that enables users to create learning content, lessons and courses using text, media, and interactions. Mainly such content developed to use it in LMS and can be saved in various formats.
Generally, the elearning creation tools are pre-programmed and offer a ready-to-use interface complete with templates, media, tools, interactions, and tests that the user can organize and manipulate as they wish.
How do they work?
The truth is that no two content creation tools are exactly the same. Today, there are a variety of program options that meet different e-learning needs.
Some authoring tools are created for non-experts who require rapid e-learning development and prefer use pre-made templates for simple content, interactions, and quizzes, while others are for specialists who want to develop highly personalized content, such as adaptive learning experiences, simulations or custom gamifications.
Despite this, all authoring tools perform the same general function: They enable the creation of e-learning courses for an audience of end users through content creation, content organization, and content standards.
What possibilities does authoring tool offer?
Ability to create lessons: It is the main feature of any authoring tool. What is included? Add and edit slides, images, text, video, audio or any other on-screen item.
Interactivity can help increase learner engagement and retention by enabling the learner to take a more active role in acquiring information. Some important features that enhance it are built-in activities: drag and drop, pair, reveal hotspots and sliders, or create custom activities and games.
Manage content: It is essential to be able to organize your assets, media and other content. You probably want to use them again later, either for a new course or to update a course in the future. Thanks to authoring tools, you save development time and keep your workflow organized.
You can involve many people: the development of e-learning involves many different people, which can be difficult when you have to start sharing the course file with all of them. Thanks to the collaboration options of authoring tools, keeping all the stakeholders involved is very easy.
Assessment features help determine what your student has retained in the course, allow you to track student achievement and progress, and also help you determine course effectiveness. Assesment includes quizzes with your own or previously created questions, elements of interaction or individualized scoring.
Publishing: Every organization has its own specific publishing requirement in order for an e-learning to be uploaded and made accessible for learners. It is important to check what your own requirements may be in order to choose an authoring tool that is compliant with your organization's Learning Management System (LMS) or needs.
The best ally for content creators
Authoring tools are used by the creators of official practice tests for some of the leading software companies worldwide. Thanks to them, content creators can easily create, manage and store content for digital evaluations of any topic and any level.
In the case of Pedagoo's Authoring Tool, it is designed to help you create assessment and practice evaluations easily without the need for technical knowledge.
Benefits of Pedagoo's Authoring Tool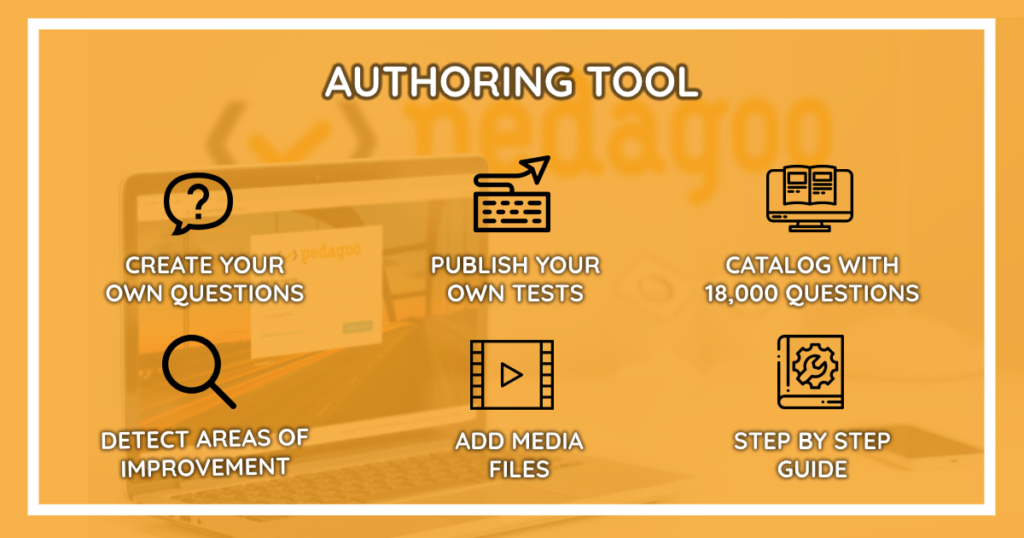 Pedagoo´s Authoring Tool has many benefits for content creators, such as:
1.Allows you to create your own questions
You can create your own interactive questions using a tool with an interface designed specifically for content creators. Content creation with this tool is easy and no prior knowledge of the tool is required.
2. In case you don't want to create the questions…
You will have a wide selection of questions to choose from among the more than 18,000 technical questions in MeasureUp´s catalog.
3. Get organized efficiently
Pedagoo's authoring tool allows you to organize content efficiently, create filters or search parameters to manage your content and publish them for distribution in a very simple way.
4. Set your own goals
Sort your questions by skill groups to spot areas of readiness or areas that need improvement for your users.
5. Include multimedia files
Add multimedia files to your questions to make the user experience more special.
6. Simple handling
Step-by-step guided test creation designed to simplify the process.
Do you want to try all the benefits of the Pedagoo authoring tool? Take a look at our demo!