One of the biggest challenges companies face today is attracting, incorporating, and retaining IT talent. Faced with a great shortage of IT talent in almost all companies, human resources and recruitment teams must constantly update their strategy to learn how to recruit IT talent.
According to a recent Manpower study, 50% of employers say they can't find the tech skills they need.
New trends to recruit IT talent
When we talk about IT recruitment, we are talking about attracting and identifying tech professionals whose skills are sometimes difficult to identify due to knowledge gaps around their competencies.
This is the case for IT Administrator, Software Developer, IT Engineer, Fuctional Consultant, Solution Architect or Business Analyst. These are professional roles whose demand is booming. And that's precisely why recruiters today will need to know how to attract and look for them.
A long-term strategy
It is necessary to carry out a recruitment 'conscientiously', that is, a recruitment in which we think about what is needed now, but also what that candidate may be able to do in the future and how they can contribute to the long-term growth of the company. Now more than ever, adaptability, learning, flexibility and development potential should be valued.
This will necessarily impact the way we evaluate and interview IT profiles. In addition to the relevant technical tests, all the questions we ask should be directed at how the candidate might face future challenges, evaluating soft skills such as creativity, innovation, critical thinking, analytical ability, results orientation, and even resilience.
The commitment to retain IT talent
Long-term recruitment, which seeks to be efficient and save future costs, cannot be successfully carried out without focusing on retention. Hiring isn't just covering a position as quickly as possible to meet the week's goals. The proof of this lies in staff turnover costs, which are especially high for IT profiles.
While retaining the best IT talent is complicated by the general scarcity of professionals with the necessary skills, a retention plan must be in place long before sourcing or identification of these professionals, and should be considered as one of the main objectives of Employer Branding. Organizations like Media Interactiva are a good example of talent retention in tech industry.
The importance of soft skills
Tech skills in IT candidates are presumed. But soft skills are not. This is a mistake, because they are crucial in terms of making recruitment more conscious, and more focused on the future and the long term.
In addition to knowing how to comply with technical requirements, candidates need to be able to communicate effectively, listen and work as a team, and master many more similar soft skills. Professionals are not only expected to perform their tasks, so it stands to reason that your evaluation of candidates will also need to focus on more soft competencies.
Use of Artificial Intelligence and Big Data in Recruitment
If you don't apply technology to automate and make your tech recruitment more efficient, you're wasting time and money. Especially in the sourcing stage, there are huge time gains to be made in identifying and attracting top tech talent with the use of technology.
Artificial Intelligence and Big Data can help increase your talent pools and identify the ones best suited to the vacancy you're looking for in a much faster and more intelligent way.
How to recruit IT talent? Pedagoo is your tool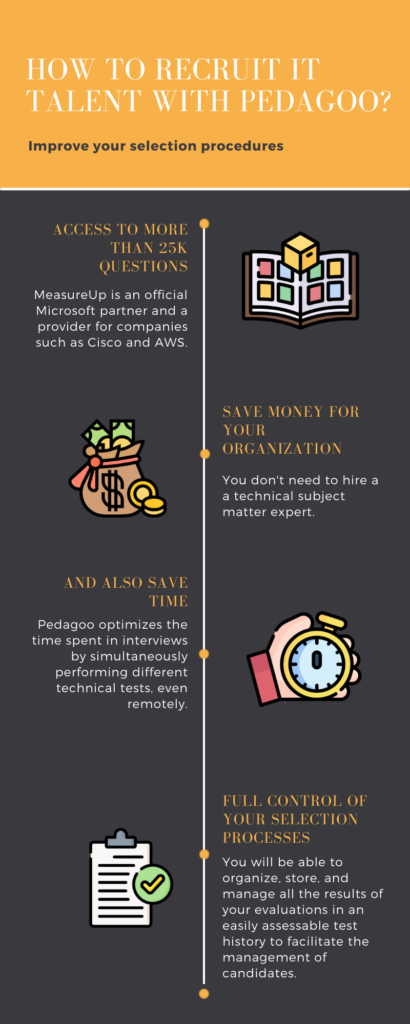 Looking for new IT talent for your company? If so, Pedagoo is here to help! Improve your staff selection procedures and evaluate your candidates' technical knowledge by creating your own questions and combining them with MeasureUp's catalog of over 25,000 questions️.
At Pedagoo we help you to select the right candidate, reducing the management time in the selection processes of your new hires. Find out how to recruit IT talent with Pedagoo:
You'll be able to evaluate a candidate's real technological knowledge using the MeasureUp catalog,which includes 25,000 questions about the most sought-after technologies. MeasureUp is a leading provider of testing and evaluation of certification practice tests for IT professionals. We are an official Microsoft partner and a provider for companies such as Cisco, AWS, Comptia, and VMware, among others. For example, the Power Platform certifications.
You will save money: Usually, a technical subject matter expert is required to participate in the evaluation processes of every candidate. With Pedagoo, you have the option to do without that step, replacing it with a custom evaluation.
And also save time: Pedagoo allows you to design evaluations perfectly oriented to the profiles needed by your organization. This optimizes the time spent in interviews by simultaneously performing different technical tests, even remotely.
You will have full control of your selection processes. You will be able to organize, store, and manage all the results of your evaluations in an easily assessable test history to facilitate the management of candidates.